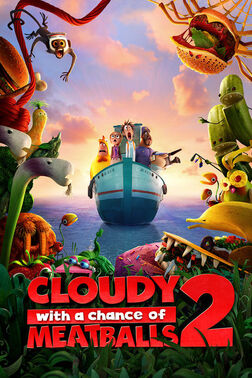 Cloudy with a Chance of Meatballs 2 is a movie that will be released on September 27, 2013. Template:Redtext
Flint Lockwood is back and on another adventure. On this next adventure he must go to a unknown island when he finds out that his machine is still operational and in good working condition. Flint will put his machine to the test and trully see if is ready for a Adventure of epic preportions.
Cloudy With a chance of meatballs 2 (two) is in 3D. Movie Specifications: 16:9 Widescreen Sound Specifications: 6.1 Dolby or THX Rating: PG (For more rating info visit http://www.pegi.com (Americas) Australian: http://www.classification.gov.au/Pages/Results.aspx?q=Cloudy+With+a+chance+of+meatballs&t=lfc)
Preview Screenings At: Hoyts in New Zeland
That is the information I have at the moment.
Cast and Crew

Edit
Bill Hader- Flint Lockwood
Anna Faris- Sam Sparks
Andy Samberg- 'Baby' Brent
Terry Crews- Earl Devereaux
Benjamin Bratt- Manny
Neil Patrick Harris- Steve
Will Forte- Chester V
Directed by Cody Camreon & Kris Pearn
Produced by Kirk Bodyfelt
By Columbia Pictures and Sony Animation